$149.95
3 Rooms + Hall
*Up to 300 SqFt per room/ Minimum charges may apply base on your location
Carpet Cleaning in Flint MI
Absolute ProCare is a family owned and operated carpet cleaning company. We've provided professional carpet cleaning in Flint, Michigan, and the surrounding areas since 1999. We enjoy serving the Flint community and offer both residential cleaning services and commercial cleaning services as well as professional carpet repair and upholstery cleaning. We also offer green and allergy-friendly cleaning products.
Our carpet cleaning technicians take great pride in their work. With years of dedication and experience, our team treats each customer with the care and respect they deserve.
We also proudly provide a service guarantee: You'll be delighted with your service, or it's free!
We want you to call us every time you need service. We love building solid relationships with our customers, and many families recommend us to their friends and neighbors, too. This helped build our outstanding reputation within the community. Just read our reviews to see for yourself!
Carpet Cleaning
in Grand Blanc, MI, Davison, MI, and Burton MI
Our primary service is carpet cleaning, but we do much more than that. We also offer upholstery cleaning, pet odor and stain removal, and carpet repair.
Customers call our company for a variety of needs. Sometimes carpet is old and needs a thorough cleaning to remove surface stains and odors. Sometimes property owners need help cleaning carpets for new tenants, whether they own a commercial building or private residence.
Many people call our company because they're hoping for a solution to their problem, but they truly don't know where to start. Even if a carpet stain or repair seems irreparable, please give us a call. We've been in this business for years, and we've seen nearly every type of problem. We can remove the majority of stains, and we're dedicated to doing things right the first time. If a stain is truly permanent, we'll let you know. In these cases, carpet repair is usually a viable, cost-effective solution.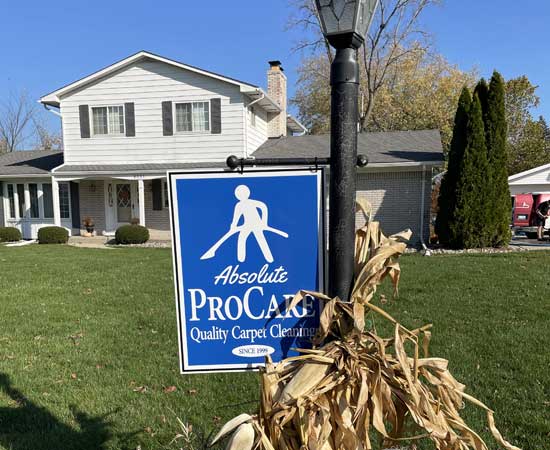 Absolute ProCare's Carpet Cleaning Services
If you're looking for a Flint carpet cleaning service, Absolute ProCare is here to help.
Our services include:
Residential and Commercial Carpet Cleaning
Our professional carpet cleaning service is much more effective than DIY solutions. We use a commercial-grade, truck-mounted system that's designed for even the toughest stains. Our technicians are trained to know which solutions work on each type of stain, and we take great pride in our work. You can't rent a cheap steam cleaner and get the same results.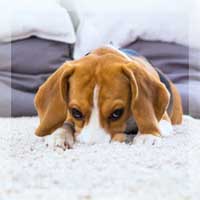 Pet Odor and Stain Removal
Pet stains and odors are trickier than other types of stains. These odors are especially good at seeping into the carpet padding and popping up again over time. These problems usually require deep cleaning techniques. We use sanitizers and deodorizers to remove the odor, but our exact technique depends on the severity of the problem. Roughly 75% of the time, our topical enzyme treatment is enough. If the pet soaked through to the subfloor, we may recommend our heavy-duty enzyme flush instead.
Upholstery Cleaning
Upholstery cleaning requires more attention to detail than typical carpet cleaning. Our technicians thoroughly clean every surface of the furniture. We also offer fabric protection. We recommend this step for homeowners with children or pets, though it's helpful for anyone who wants to maintain their furniture for years.
Carpet Repair
While our carpet cleaning services are top-notch, sometimes carpet repair is a better solution. Some carpets have ripped seams, scorches, and damage that obviously needs repair. Sometimes, homeowners often think their carpet is too dirty or worn and needs replacement. A thorough carpet cleaning and spot repair is often a less expensive option.
Whatever your carpet cleaning and repair needs are, Absolute ProCare is here to help. If you need a Flint carpet cleaner, use our online pricing calculator or contact us for a free estimate.
Absolute ProCare has provided Flint carpet cleaning for over two decades. Our customers know they don't need to worry about unprofessional or incomplete service when they choose our company. That's because we provide a complete satisfaction guarantee.
If you're not happy with your service, it's free.
Your search for the best mid Michigan carpet cleaners is over. Second time we've used this company's services and they do not disappoint. Punctual, kind and very professional. Our carpet looks and smells amazing now. They are up front with pricing and very fair. We will always recommend this company and their service again. 5 Stars All Day Long!
~ Rock B
Absolute ProCare just left my house and it is a 100% night and day difference! They are the best ever and we can't thank them enough for saving the day! The big name companies can't compare to these guys. We had Absolute come to our old house and they worked miracles on that carpet, so we knew we had to call them to our new house. Our carpet now looks brand new and the whole house smells amazing. They got out pet stains from the previous owners and made sure the carpet is totally spotless, including the stairs. They are true professionals who take pride in their work, are on-time, have great prices, and are forever our go-to company. We recommend them all the time. We cannot recommend Absolute highly enough!
~ M. Brown
Professional Cleaning Services
in Flint, MI
If you need professional cleaning services in Flint, Grand Blanc, Davison, or Burton, MI, Absolute ProCare is here to help. We have proudly served these local communities since 1999, and we love forming long-lasting relationships with repeat customers. Give us a call at (810) 355-2293 to set up a free estimate or schedule your carpet cleaning today!